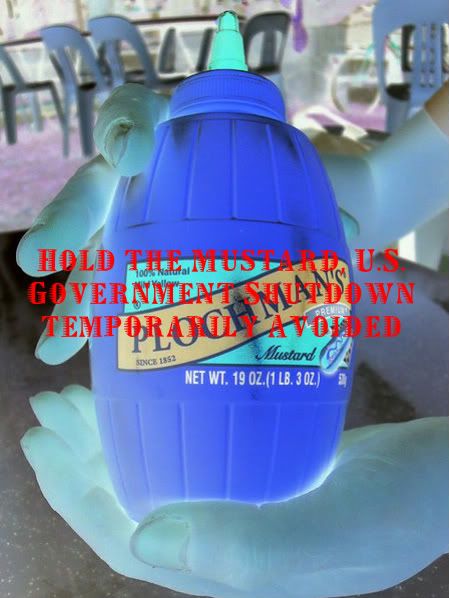 This is a picture of someone named John, literally holding the mustard.
Whoa, the government sure knows how to keep us bored American citizens on the edge of our seat!! First, it looks like there's no budget compromise in sight which meant that the whole dang government was gonna go into hibernation, but at the last second, an agreement on the budget was reached---or is it, an agreement to reach an agreement was reached--who knows? Who cares? The Federal Government is now free to chug along like the well-oiled machine it is (sarcasm).
I don't dislike our government, but don't think I'm going to sit here and think that it functions properly--or well for that matter-- unfortunately the government is like any business, corporation, collective, retail store, mom and pop shop, etc.; rife with instability, in-fighting, gossip, popularity contests, ineptitude, group projects where only one person is doing the work, scandal, sexual harassment, ballot stuffing, cursing, human sacrifice--hold up I didn't mean that last thing. That would be crazy and that's something the government is not. Crazy.
So anyway, back to the basics, House Speaker John Boehner from my home state of O-H-I-O announced that the House will pass a little measure good enough to keep the government functioning through next week when a long term package will be decided upon in a manner smoother than that which was used this week (I added the last part, and it's dripping with sarcasm).
Seems like they cheated to me. If a decision wasn't met, then the government was supposed to shut down. Now I don't WANT the government to shut down, we're already doing bad enough with every player on America's team doing it's best, if we lose a member (our guvment) we might fumble ourselves right into something akin to the Rome's flaming demise, however, they shouldn't flood the Internet and those fossilized newspapers with sensationalized threats of a shutdown that everyone knows would most likely never happen. The government is a business like I said, its members want to stay in operation at any means necessary, and will fudge the numbers a bit for their benefit.
Am I making any sense?
See ya next week when Title X will still be the blockade on the road to the government's progression through its spending plans, and if the old Govvy doesn't get it together, we might be doomed to continue our glorious trend of overspending and end up more bankrupt than a washed up rapper, and nobody wants that.
Peacy Weacy!!