Sitting here, drinking water and eating sunflower seeds...and having my mind blown by Through The Wormhole with Morgan Freeman. My mind is blown over the content, sure, but what's more, it's blown with contemplation of the subject of the Earth, planets and otherworldly lifeforms.
As the opening credits splashed across my screen I wondered if shows such as this are reputable. Do they present ideas and theories that are well grounded and well researched or present the crackpot ideas of random people all over the world?
I began to question the authenticity and the credentials of the scientists that offered commentary on very abstract, nearly unfathomable theories about the galaxy, aliens, the Earth's history, etc. Is it worth my time to watch a show that is nothing but speculation?
Is
the show mere speculation? The possibilities for theoretical and logical pitfalls are endless, so I left my criticisms behind for an hour or so and simply watched with a clear mind.
The stereotypical photo of a wormhole associated with articles about space.
The show had a few segments, one part was about the different rocks found throughout the world indicating that over time, the Earth has undergone dramatic climate changes and been formed of myriad materials that comprised a world that humans today could not have inhabited. Another part focused on how Alien lifeforms would look on different planets with different climates and offered speculation about what evolutionary characteristics they might possess. All the ideas presented in these segments, whether I scoffed at them or contemplated them, led me to start asking a few questions myself, and heeeeere they are!!
Isn't it a given that life exists on other planets? The Galaxy is just too large for us to assume that we are the only things breathing.
Isn't it true that any scientist's speculation about our planet and its relation to the vast stretch of space in which it revolves will never live long enough to see their predictions be proven fact?
Will any of us live to see any speculation of our own realized? The Earth changes slowly. Any natural resources or species or rock formations etc. that we lay eyes upon today took millions of years to form and get to its current state. We are living in a constantly morphing world. But it's a slow morph--or--the Earth changes too slowly for the span of most of our lifetimes.
Are there superior mechanical beings on other planets or gaining intelligence on our own? Oh no! Are we going to get
The
Terminator
'd?
Is it possible that our Earth exists in an ideal state (being geomagnetic, mild and generally stable) that no other planet can boast and therefore we are the only beings in the entire Galaxy? Isn't the idea that we are here all alone a bit eerie?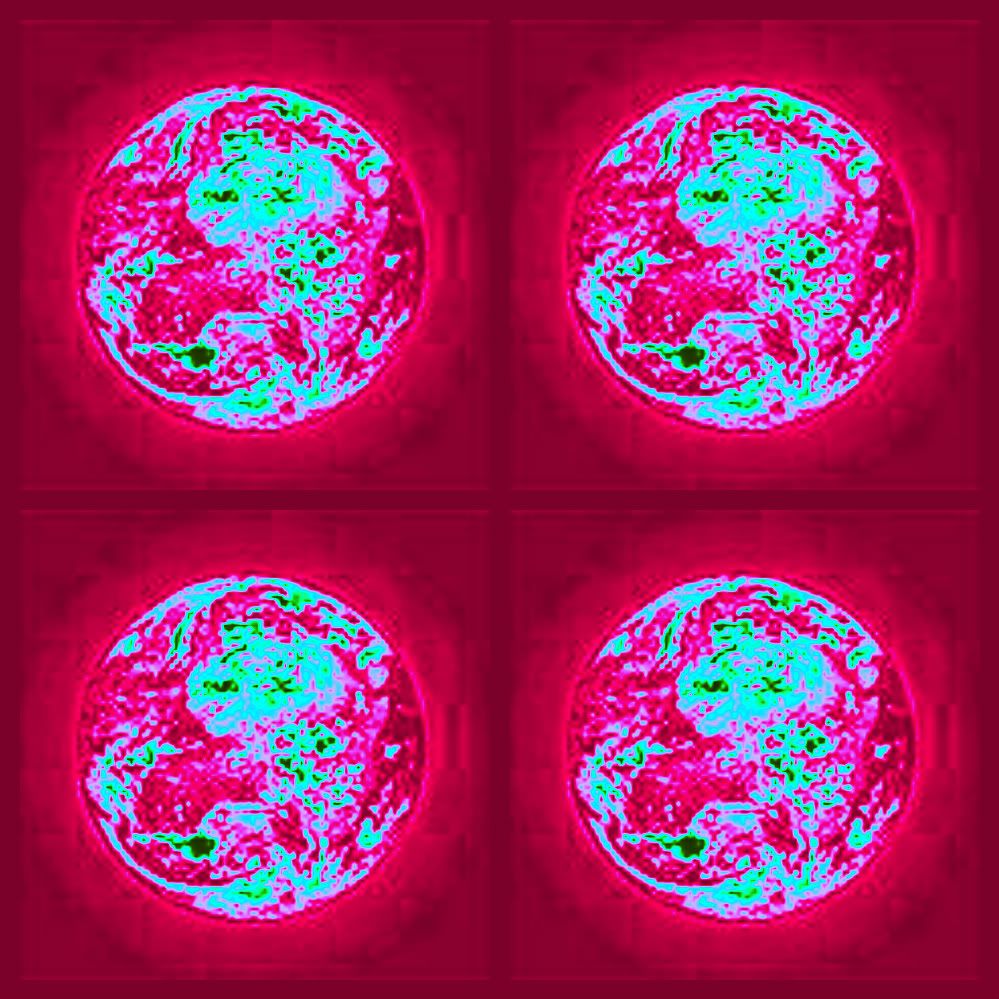 Ahh planet Earth. Isn't she beautiful?
Or, what if what we call oxygen would kill a being from another planet? What if organisms on other planets survived on Neon or Fluorine or Krypton (except that the gases integral to their survival wouldn't even be called by these names since all of these words are made by natives of this Earth). So if other species are able to survive on other gases, that would mean that other species on other planets do not need oxygen to survive, and therefore any speculation about whether or not other planets have life on them shouldn't be contingent upon whether or not the planet has oxygen, or even water for that matter. What other planetary beings need to survive may not be what we as human beings of the planet Earth need to survive.
And here's the main most mind blowing question I asked myself....
What if the earth is extremely cold, and we just don't notice! Or for that matter, what if it's extremely hot? Think about it, if the Earth was really hot, we wouldn't know it because we are able to survive in this climate and are comfortable in it. Or to blow the mind a bit more, what if we are designed to endure both extremes incredibly well. What if the parts of the Earth that experience freezing cold winters and snow etc. would be considered uninhabitable by anyone but us--and then even WE can't go running through the Siberian tundra in our skivvies! We live on a planet of crazy weather patterns, volcanic eruptions, boundless waters and shifting platelets. We are pretty amazing and bad ass for existing quite successfully in a world that is as beautiful as it is unpredictable, as comfortable as it is dangerous to our health.
And then, a segment came on about age, and my mind reeled in an entirely different direction! And another question arose!
Are we aware of how much we have evolved even within the span of a couple hundred years? Look at pictures of people from the period before 1950, for example. We don't really look like them physically, we're a lot cuter for one.We're definitely healthier and smarter. While your at it check out Upton Sinclair's
The Jungle
and see how far we've come in the realm of common sense and decency! We are not the people of that time, our ever increasing brain power has allowed us to make certain technological advances to ensure that we don't die from a cold or get wiped out by ruthless plagues, we are generally healthy and resilient. We have evolved. Trust that we aren't done. I'm glad I'll be pushing daises before I see what we turn into a thousand years down the line. That is, if the Earth doesn't combust before we can evolve past what I've deemed to be a human evolutionary trend toward shortness.
Are my sentences as confusing as I think they are? Perfect. It's good for you.
Anyway, just rambling really. None of these questions or ideas I've presented are particularly novel even though they are my own. The joy of thinking!
Peacy Weacy!!