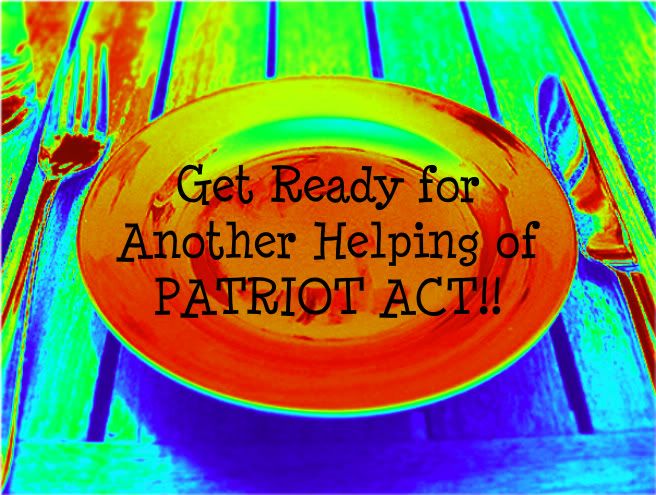 Mmmm...National Security Legislation. Delicious!!
I woke up this morning craving something and I wasn't sure what. I got in my car and drove to McDonald's and bought a sausage egg mcmuffin and a sweet tea, yet my craving persisted. I sat on my bed staring into space, trying to digest the lump of delicious heart stopping sustenance in my stomach before I realized what it was I wanted, National Security Legislation! Why didn't I realize it sooner?
Lucky for me, President Obama just signed a four year extension of the
Patriot Act
which means that roving wiretaps, court-ordered searching of business records to investigate any perceived terrorist activity and secret surveillance of non-American individuals who may or may not have ties to terrorist cells is here to stay!!
The Patriot Act has always been shrouded in controversy, some believe it violates privacy (which it does, by definition) and has in the past been criticized as being misused by law enforcement, called unconstitutional, unnecessary. All of these are valid points, I don't know who can really argue with them. However, proponents for the bill claim that it has been useful in deterring terrorist attacks and since its inception following the September 11, 2001 attacks, and that may be so, but who can really know?
All I know is, the Patriot Act has and always will remind me of an episode from season seven of The Simpson's titled
Much Apu About Nothing
, where a bear wanders around Springfield until it is tranquilized and Homer rallies for the creation of a Bear Patrol. The question is raised, is the Bear Patrol necessary? Sure, from then on Springfield doesn't have to contend with any surprise bear encounters but the one sighting that occurred was rare anyway, and may never have happened again whether the patrol was around or not.
However, how can I argue with the government's efforts to protect the country from terrorists? I could, but I won't, if the government wants to check out a list of the books I took out from the library (yeah, I still do that) and peruse it for suspicious activity, go ahead. I am not ashamed of my penchant for trashy romances, gems of the literary canon, or gritty mysteries. Maybe they'll find something they like and curl up with a book from my list that same night with my name on their lips and a story in their heart.
Hold on wait, what was I talking about? Oh the Patriot Act. Yeah, I don't have any strong opinions. I'll save that for the day my own privacy is infringed upon for no reason. Which I don't see happening, I'm young, black and beautiful. My only concern is my never ending quest for mastery of the written word and for my freedom to express my opinions and wishes and fears--which so far, I have done unmolested.
Craving satisfied.
Peacy Weacy!!
Source